Asaf heads our Litigation Department and the Competition and Antitrust of the Firm.
Asaf is well-known for his expertise in competition practice and recommended by the leading legal professional guides such as Chambers Global and Legal500, as one of the leading Israeli lawyers in the field of Competition and Antitrust.
Asaf is an expert in Competition Law and has acquired extensive experience in providing legal counsel in this field, including mergers and acquisitions, restrictive arrangements, cartels, monopolies and concentration. Asaf specializes in the management of competition risks, compliance with the provisions and regulations issued under the Competition Law and the implementation of internal compliance programs under same.

He has handled complex litigation cases, including civil disputes worth hundreds of millions of shekels, class action lawsuits worth billions of shekels, and administrative proceedings before Israel's Supreme and Administrative Courts. Asaf has wide-ranging experience in providing legal counsel in the fields of antitrust and competition law for leading Israeli and international companies, including those in the food, energy, transportation, and publishing and advertising sectors, as well as retail chains, banking and other financial institutions, and hi-tech companies and start-ups.

Additionally, Asaf has extensive experience in leading restrictive litigation cases. He has represented our clients in Israel's District Courts, Antitrust Tribunal, and Supreme Court.

He provides ongoing legal counsel regarding the enforcement of competition laws and Israel's Concentration Law to government ministries, statutory bodies, and government companies. Asaf provides counsel to the firm's clients, including  the Inter-Ministerial Committee of the Ministry of Finance and the Ministry of Environmental Protection, the Israel Airports Authority, the Israel Ports Company amp; Netivei Israel (Israel's National Transport Infrastructure Company), Elco Electra Group, Partner Communications Group, HY Group, Clalit Health Services, Magalcom, Eshet Tours Group, Ya'Acobi Brothers Group (YSB), Superbus, L'Oréal Israel Ltd., Shenkar College, Ifat Communications Group, and more.

Significant cases represented by Asaf in the field of Competition Law:
significant GIS cartel case, which included representation in the claim amounting to 4 billion NIS in a class action suit worth 2.5 billion NIS, and a preliminary appeal procedure before the Competition Tribunal;
class action suits filed against the statutory authorities relating to the Competition Law.
class action suits filed by private companies in the fields of telecommunications, retail, energy, food;
criminal proceedings under tCompetition Law in the Book Cartel affair, the Bread Cartel affair, the Computer Cartel affair, and more;
Providing representation in administrative proceedings, such as representing tender committees in administrative petitions submitted against them in tenders amounting to hundreds of millions of shekels before the Supreme and Administrative Courts.
Representing private bodies in administrative petitions filed against public bodies;
Representing civil disputes in the scope of hundreds of millions of shekels, representing preliminary proceedings before the Supreme Court and the District Courts, as well as providing representation in complex arbitration proceedings, inter alia, before the ICC, and in other complex mediation proceedings;

Asaf is the Vice Chairman of the National Antitrust Committee of the Israel Bar Association and Associate Editor of the Israeli legal journal "Corporations". He has also published legal articles on antitrust issues and various articles in economically-oriented newspapers.
From 2020 Edition of Chambers Global:
"Commentators view Asaf Shubinsky as "a rising star in competition law." He acts on class actions, including with regard to global cartel allegations, and sources note his "business acumen and strategic thinking."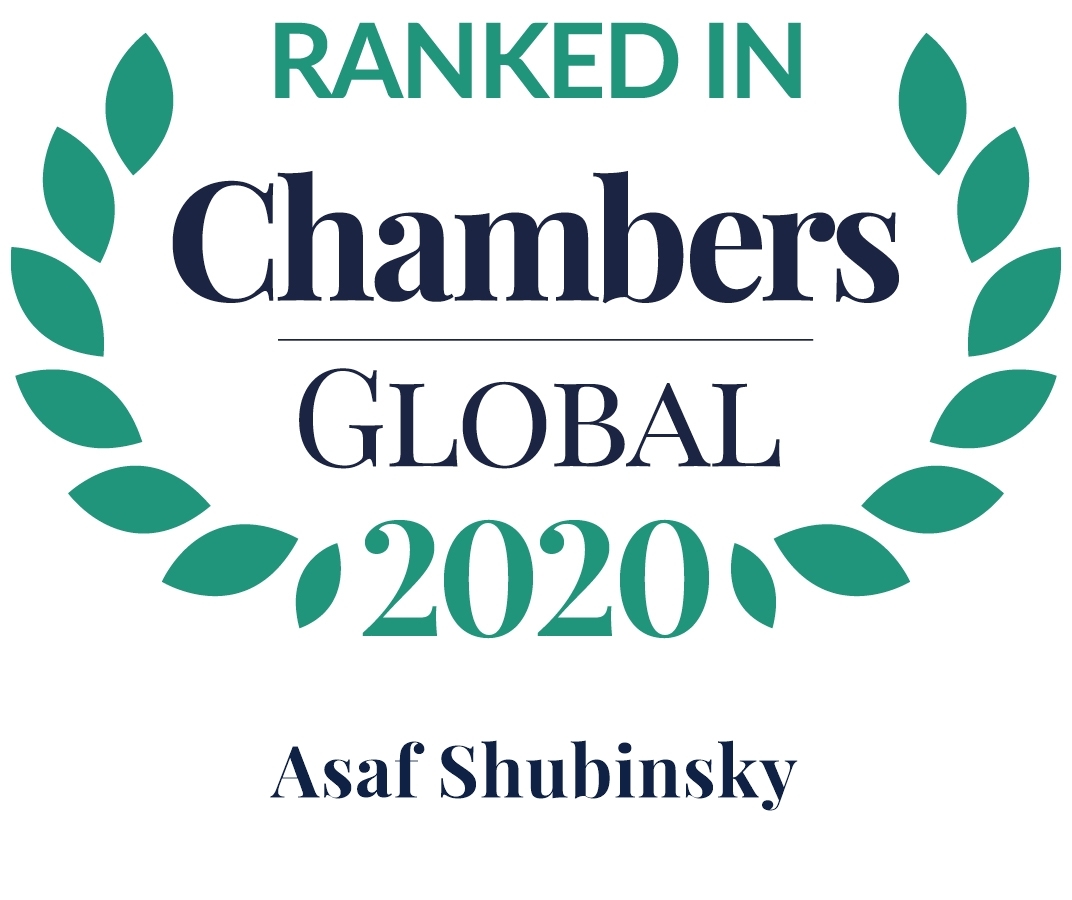 Contact
asafs@ljlaw.co.il
03-5102491
Areas of Practice
Year of Accreditation
Israel bar association, 2008
Education
LLB, Haifa University, 2007